Ardingly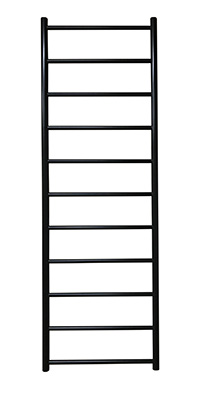 Model:
Dimensions:
BTU:
Watts:
RRP*:
Tech Sheet:
Ardingly
1580 x 520mm
2114
617
£387.50
View
*RRP excludes VAT at the current rate.

25 year guarantee on body of the rail, 5 years on finish.
Pricing is based on central heating version. All models are available in central heating, dual fuel and electric only formats.
We recommend you use the complementary element cable cover with the electric only option, and for the central heating option the profile valves in satin finish, should you wish to use a TRV valve we would recommend satin streamlines and for duel fuel we recommend satin duel fuel valves, for further see the valve section of the website.
Central Heating
Crafted from 100% stainless steel, and powder coated black, the Sussex towel rail is designed to last a lifetime. All of our rails can replace the existing radiator in the bathroom and provide a stunning modern look with plenty of space to dry and warm towels. Each rail is manufactured with standard 1/2" BSP tappings and is pressure tested to 12 Bar. Our rails are suitable for all plumbing systems including open systems. BTU/Watt figures are based on T=60K. We recommend that all plumbing work is carried out by a qualified plumber.